Next Friday, October 4th, is St. Francis Day!
This orange kitty hugging a tiny bird wears a brown Franciscan robe, a halo, and a bright smile. He stands on a simple polished wooden disk about the size of a US quarter. He arrives in a velour or velvet gift bag.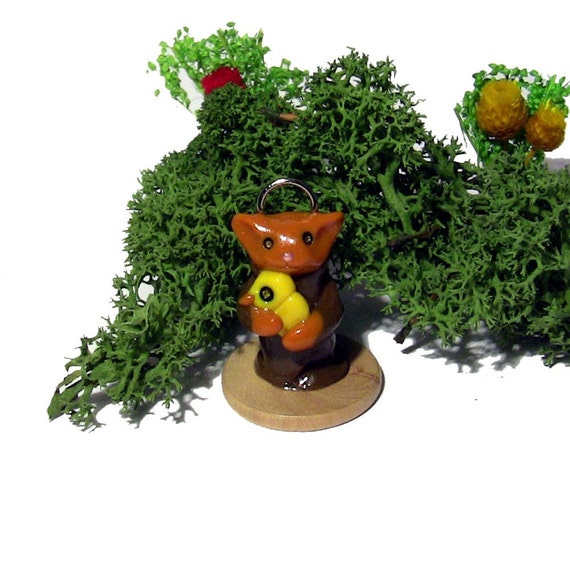 Match Your Pet: http://etsy.me/TRaQoI
Quick popular searches:
Gift Sets: http://etsy.me/12FVRCN
Maneki Neko: http://etsy.me/TxMN1h
Birthday and Zodiac: http://etsy.me/YNsjTy
Wedding and Love: http://etsy.me/V4lRBV
***** ABOUT SAINT FRANCIS *****
Saint Francis of Assisi (Giovanni Francesco di Bernardone; 1181/1182 – October 3, 1226) was a Catholic deacon and the founder of the Order of Friars Minor, more commonly known as the Franciscans.
He is known as the patron saint of animals, the environment and Italy, and it is customary for Catholic churches to hold ceremonies blessing animals on his feast day of 4 October.
Many of the stories that surround the life of St. Francis deal with his love for animals.Perhaps the most famous incident that illustrates the Saint's humility towards nature is recounted in the "Fioretti" ("Little Flowers"), a collection of legends and folklore that sprang up after the Saint's death. It is said that, one day, while Francis was traveling with some companions, they happened upon a place in the road where birds filled the trees on either side. Francis told his companions to "wait for me while I go to preach to my sisters the birds". The birds surrounded him, drawn by the power of his voice, and not one of them flew away. (Adapted from Wikipedia)
***** ABOUT ANIMINIS *****
Animini collectible animal pals are about the size of a US quarter. They are made of durable chip- and shatter-resistant polymer clay and are coated in two or more layers of glossy glaze, keeping their colors bright and giving them the appearance of a china figurine. I don't use molds so every Animini in a series has his or her own personality; they are individually sculpted and painted by hand and details are added with a straight pin.